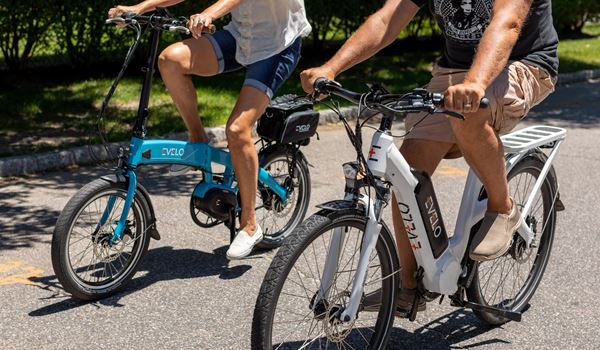 BIKE RACKS NOW AVAILABLE!
Thanks to NWL Council and Evans Pharmacy, we now have bicycle racks in the car park.
Located behind the surgery in the Evans Pharmacy Car Park in the right hand corner, the racks allow you to secure your bicycle in a safe place whilst visiting the surgery. So why not cycle to the surgery - it's good for the environment and good for your health too!
(Photo by Team Evelo on Unsplash)
NHS - Our Vision
To deliver the world's first net zero health service and respond to climate change, improving health now and for future generations.
https://www.england.nhs.uk/greenernhs/ - link to video – Discover how the NHS is becoming greener.
As a practice we are taking steps to work more sustainably, not only to reduce our carbon footprint, but to improve the health of our community.
Here are some of the things we have been doing to reduce our environmental impact:
Recycling our paper, glass, plastics and plastic wrapping
Composting our food waste, tea and coffee
Reducing our paper use and reusing scrap paper
Using email and text communication where possible to reduce paper and the need for postage (which has an added carbon footprint)
Continuing to offer telephone consultations to patients who want them to reduce the need for travel to the surgery
Reviewing our asthma and COPD patients to make sure they are on the best treatment
Reviewing prescribing of asthma inhalers to see if a more environmentally friendly inhaler may be appropriate (see below)
Undertaking annual medication reviews to make sure patients are not on unnecessary medications
Introducing long-term conditions clinics to cut down on the number of appointments patients need to come to the surgery for
Encouraging staff to take part in wellbeing activities such as yoga and walking
What can patients do to reduce the environmental impact of their healthcare?
Asthma and COPD
Some of the inhalers we prescribe contain powerful greenhouse gases which are damaging to the environment. For more information visit www.greeninhaler.org
Talk to your nurse to ask if you are on the most environmentally friendly inhalers for you.
Even after you throw away your inhaler it continues to release its greenhouse gases so it's really important to take your inhaler back to the pharmacy so it can be disposed of safely. In Leicestershire we currently have an inhaler recycling scheme called Take Air. You can find more information about this here www.chiesi.uk.com/documenti/892_take-air-infographic-approved.pdf.
Diabetes
Leicestershire is running an insulin pen recycling scheme called PenCycle. Please ask your diabetes nurse or pharmacy about this to find out how to recycle your insulin pens
Medication
The manufacture of medication has a high carbon footprint. Although it is important to take medication you are prescribed, it is also important that medication doesn't go to waste and that you're not taking medication that you no longer need; as this can cause side effects.
Medication can also be harmful if it gets into the environment when it is thrown away in the general waste
How you can help?
Only order what medication you need
Let the surgery know if you are no longer taking a medication so it can be taken off your prescription
Return unused medication to the pharmacy so it can be disposed of safely, and don't throw it in the general waste bin
Recycle your empty medicine packets where possible at local Superdrug stores
Travel to the surgery
Are you able to walk or cycle to the surgery rather than take the car?
'Active travel' has a number of benefits:
Increased physical activity is good for your physical and mental health, and can help in maintaining a healthy weight. This is particularly beneficial for some health conditions like diabetes.
Reduced emissions from vehicles not only reduces your carbon footprint, but reduces air pollution which is beneficial for the community, especially for those with lung conditions
Avoids the need to find a parking space!
If you're not able to walk or cycle, public transport or car sharing is a more environmentally friendly way of getting to the surgery. Alternatively, consider whether you need to see someone face to face? We continue to offer telephone appointments to save the need to travel to the surgery if you do not need an examination.
Reducing paper
You can help reduce our use of paper by opting to receive communication from us by text or email if this is appropriate for you. You can contact the surgery to make sure we have your up to date phone number and email address, and your preferred method of communication.
You can also ask for electronic copies of Fit Notes, questionnaires and information leaflets so they do not need to be printed out